Work with me through Art Spaces
Whether you are a gallery curator looking for something fresh, a company needing help with a subversive marketing campaign, a retailer wishing to license emages or stock my products, or looking to commission art for commercial or domestic spaces.
Here is a link to my Press Briefing page
Please get in touch! smart_ink_biz@ yahoo.com or on the form below.
Rebel with a cause
This is a strapline used on Medecins Sans Frontieres t-shirts. Following my numerous missions with MSF in the field, this is what we wore under our heavily branded MSF bibs while fundraising. Bibs worn in refugee camps and war zones to let rebels and unstable military groups know who we were, and in an attempt to protect us under the terms of the Geneva Convention rules of war.
Coming home to a capitalist society, I had no impulse to buy stuff, all-pervasive marketing made me feel invaded and I didn't want to flock. Now, it seemed, I was the rebel.
There is also something about distraction. Modern life, especially that mediated through technology encourages us to Browse. Watch. Repeat, as much as we Inhale. Exhale. Repeat.The idea that someone who stops to reflect on the world around them, is somehow incendiary. Akin to Socrates's 'a life examined' - and we know what happened to him!
So, if you are a rebel at heart; someone who is curious, with an open, independent mind; someone who is not afraid of staring into the abyss and reflecting; someone who is values-led; someone who is sick of marketing; someone with a sense of humour...
...Then work with me. Let's fight mediocrity and banality where we find it, and let's create
thought-provoking art spaces. Let's fight it in the galleries, homes, offices, coffee shops and bars, hell let's make t-shirts that refuse to accept commercial brand and slogans taking our beautiful chests for their advertising boards only to turn us into their marketing sheep and boost their profits…
You get the idea; a heady mix of lofty ambitions and soaring rhetoric, right? Let's create a tribe that celebrates being present and positive, uses humour to satirise the horrors of the third modernity, but also helps to bring some clarity and unity in a confusing, fractured world.
I create art that I want people to see and enjoy. If you work with me, we can create art spaces where you are that encourage positivity, but also free-independent thinking that reaches beyond the narrow strictures of our capitalist religion. Art that you might commission that helps people to think differently, perhaps on a daily basis.
We could change behaviour. I don't know, authenticity in marketing, meaning in exhibition halls, the value of independent coffee shops and breweries, and thought-provoking images in hotel lobbies that – at least for a moment – make an individual look up from the news feed on their device.
My Collections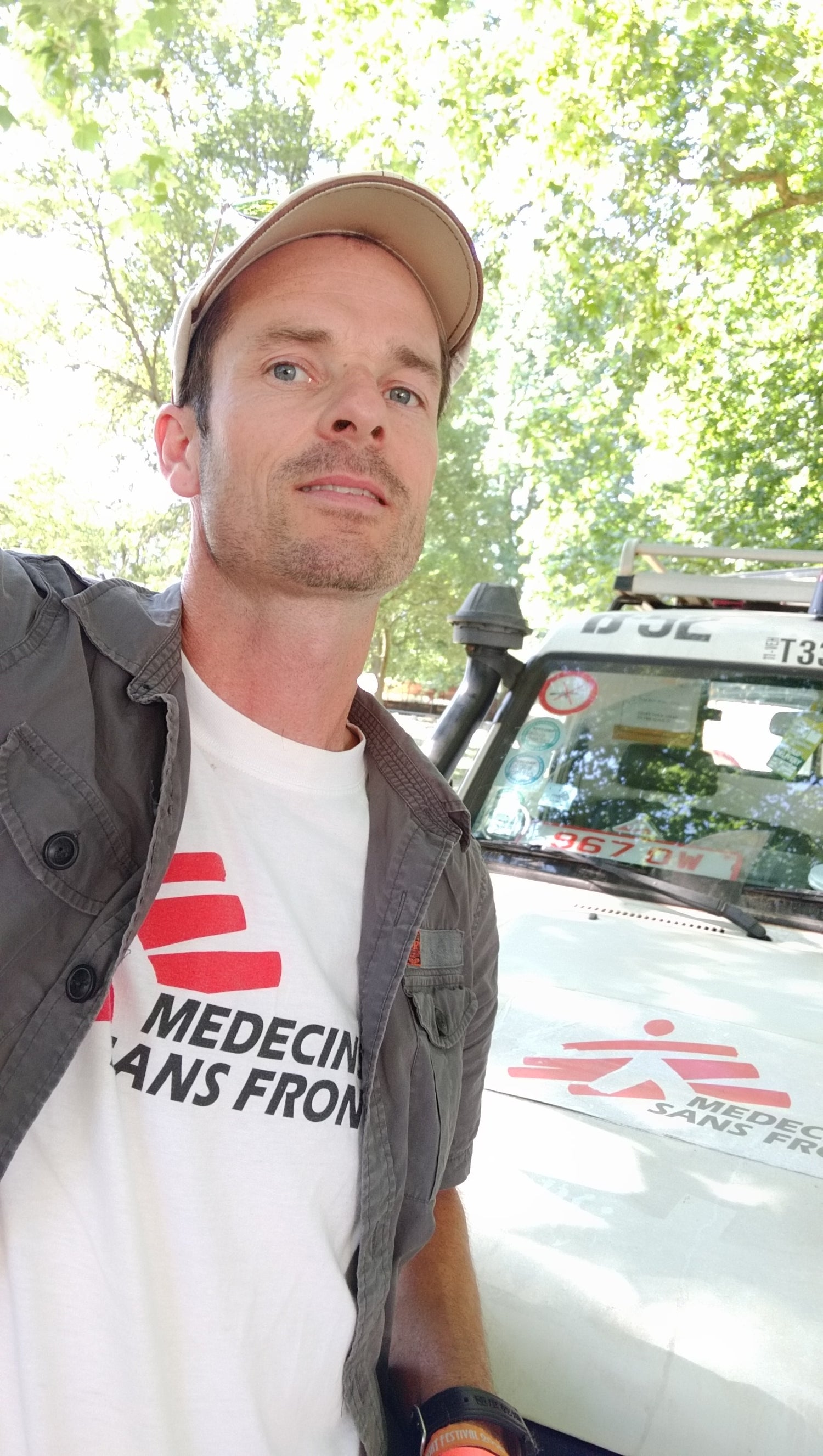 MSF at Hyde Park
Here with 'B52' , a boxy Toyota Landcruiser that was retired from Sierra Leone after many years as an ambulance, notably during the Ebola outbreak response by MSF from 2014.
Sierra Leone was my second MSF mission in 2002 as a Logistician just at the declaration of peace, after a decade of atrocious civil war, and at a time when the country was suffering the worse maternal and infant mortality rates in the world.
To bring our fundraising stand to life at the 2019 British Summer Time music festival in Hyde Park, London we let festival goers get in while they signed up to regular giving.
It is my ambition to donate a significant portion of my Art That Makes You Think profit to MSF - the largest and best privately funded medical disaster relief organisation in the world.
Donate to Medecins Sans Frontieres